Technology
H. Jay Wisnicki, MD is the editor of the Tech Talk column for Ophthalmology Times. He has a background in engineering and serves on the American Academy of Ophthalmology New Education Technology Committee and advises in other areas in health care information technology.
Technology Articles
Tech Talk Column for Ophthalmology Times
Healthcare Legislation and Privacy Issues
Ophthalmology Times
Binocular Vision Quarterly
Archives of Otolaryngology-Head and Neck Surgery
Technology Panels & Meetings
AAO Thank You Note from H. Dunbar Hoskins, Jr., MD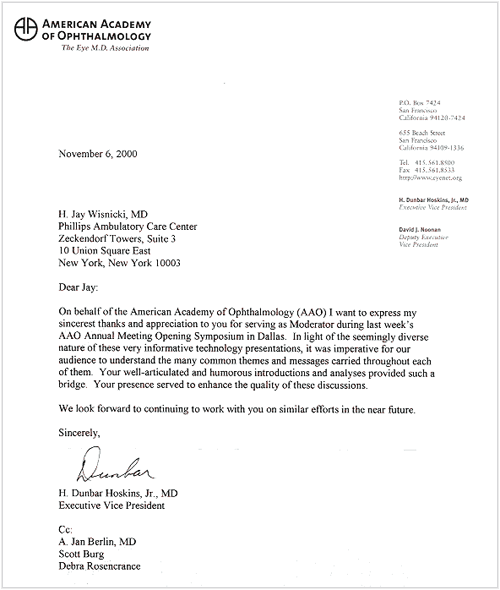 104th Annual Meeting of the American Academy of Ophthalmology -- Dallas, 2000
European Strabismological Association Meeting -- Jerusalem, 1999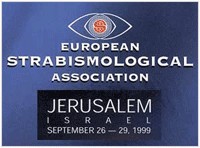 H. Jay Wisnicki, M.D.
Departments of Ophthalmology
Beth Israel Medical Center, New York, NY
Albert Einstein College of Medicine, New York, NY
A 49 year old female with sensory esotropia underwent adjustable suture surgery under acupuncture anesthesia. The patient, herself a physician and acupuncturist, had a traumatic injury to the right eye as a child and previous eye muscle surgery. She was a moderate myope with corrected visual acuity of hand motion in the right eye and 20/20 in the left eye. Ductions and versions were essentially normal. There was a comitant 55 prism diopter sensory esotropia. Since the patient herself was an experienced acupuncturist, the patient and surgeon discussed and elected to perform strabismus surgery using acupuncture anesthesia. The stand-by anesthesiologist was briefly trained in acupuncture techniques by the patient. Other anesthetics were available in the operating room, to be used if needed. Six acupuncture needles were placed by the patient as follows: one between the thumb and first finger, one in the preauricular area, and one near the brow, bilaterally. These were attached to the low current acupuncture electrical stimulator which was regulated by the anesthesiologist, based on the anesthetic effect. After allowing fifteen minutes for the anesthetic effect of acupuncture, the patient was prepped and draped. A single drop of tetracaine was placed in the right eye before the prep since acupuncture does not have a good effect in anesthetizing the corneal surface. A right medial rectus adjustable re-recession and right lateral rectus advancement/resection was performed. Although an intravenous line was placed for access, no medication was administered. The patient was comfortable, awake, and alert throughout the procedure. The suture adjustment was performed in the operating room at the end of the procedure since the patient's vision and motility were not affected by the acupuncture anesthesia. No eye patch was applied and the patient was discharged from the recovery room fully alert within 10-15 minutes of arriving there. The patient tolerated the procedure very well and experienced no discomfort post-operatively. Six weeks post-operatively there was a residual esotropia of 25 prism diopters. Acupuncture was an effective anesthetic agent for this case of adjustable suture eye muscle surgery. It may be a useful adjunct in patients whose medical or eye condition make local or general anesthesia difficult to perform.
View a related article, Strabismus Patient Opts for Acupuncture as Anesthetic in Technology Articles...
Technology Courses
Sun Microsystems: Infoaccess '97. Merging Technology and Healthcare. Program Director: H. Jay Wisnicki, MD
Sun Microsystems: Infoaccess '97 Press Release
The Internet: A Medical Information Tool. A Post-Graduate Course at Beth Israel Medical Center. Course Director: H. Jay Wisnicki, MD.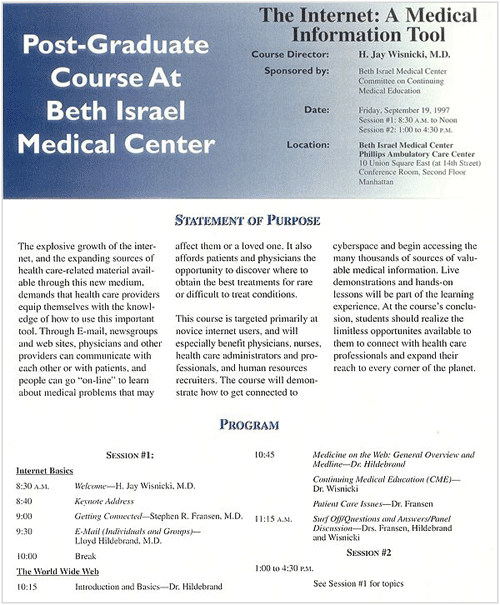 Pro Vision: An instructional, interactive CD-ROM for teaching ophthalmologists worldwide. Developed by Dr. Wisnicki and the American Academy of Ophthalmology.
Technology Committee: American Academy of Ophthalmology